The Right Leadership and Technology Partnerships designed to deliver clinical solutions to cancer care management.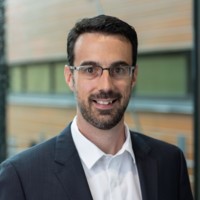 Dr. Haince bring solid capabilities in clinical development and commercialization of cancer diagnostic tests in N. America, Accreditation and core lab management expertise, scientific rigour and business development capabilities to BioMark as GM and CSO (Chief Scientist Officer).
At Diagnocure, Jeff led cross-functional teams and multiple stakeholders to transform complex R&D projects into new business opportunities.
Jeff was actively involved in the development and clinical validation of two molecular diagnostic tests for early detection and management of cancer. These tests included Progensa ® PCA3 for prostate cancer and Previstage® GCC for colorectal cancer. He managed multicenter clinical trials led by researchers at Mayo Clinic that confirmed the clinical validity and utility of a new molecular assay for early detection and management of colorectal cancer. He was part of the core team that was involved in the development and clinical validation of Previstage® GCC Colorectal Cancer Staging Test, a RT-qPCR test for staging of colorectal cancer patients and oversaw the development of the second generation of the GCC test using relative quantification; this resulted not in only increased sensitivity and accuracy but also generated new IP that broadened Diagnocure's patent portfolio. Jeff also participated in the opening of Diagnocure's CLIA lab in Pennsylvania.
Authored over 15 peer-reviewed scientific publications and 2 patents, Dr. Haince holds a PhD in Cellular and Molecular Biology from the Faculty of Medicine at Université Laval and a B.Sc in Biochemistry from Université Laval.