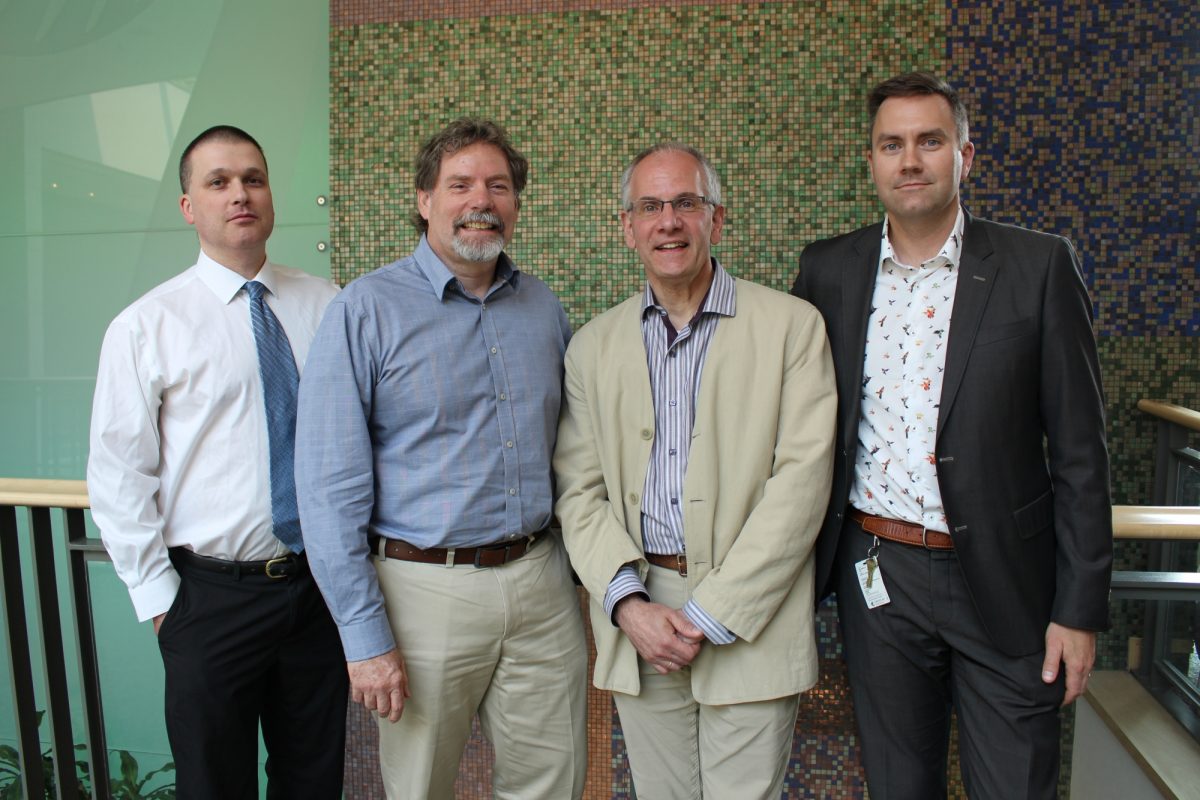 MAY 31, 2019 —
Glioblastoma multiforme (GBM) is the most common primary brain tumour in adults and is characterized by its infiltrative and often fatal progression. The strikingly poor survival for patients with GBM of 14-16 months following diagnosis is due in part to limited early detection methods and an absence of effective treatment options.
Funding from the Canadian Institute of Health Research of $753,432 was awarded to professor Donald Miller and a multidisciplinary team under the Collaborative Health Research Projects program. These funds bring together diverse teams of health researchers, engineers and those in the natural sciences, and social scientists and humanities scholars, to tackle health challenges.
"This new collaborative research project will examine blood and urine based biomarkers for early detection and treatment monitoring of brain tumours," said Donald Miller, project lead and professor in pharmacology and therapeutics, Rady Faculty of Health Sciences and the Kleysen Institute of Advanced Medicine at the Health Sciences Centre.
The research involves a diverse team of investigators from the U of M—Donald Miller, Thomas Klonisch (human anatomy & cell science), Ted Lakowski (pharmacy), Marshall Pitz (Research Institute of Oncology and Hematology a joint institute with CancerCare Manitoba), as well as David Wishart from The Metabolomics Innovation Centre (Alberta) in partnership with BioMark Diagnostics (British Columbia).
"Our studies focus on glioblastoma, the most common primary brain tumour in adults, which has poor outcomes for patients and limited long-term survival," explains Miller. "Translational studies (that see research results moved to practice quickly) in pre-clinical brain tumour models as well as proof-of-concept studies in the clinical setting are planned. The ultimate goal is to develop a safe, reliable and affordable way to monitor brain tumor progression and provide improved treatment care for those Canadians afflicted with this tumour."
The funded Collaborative Health Research Projects are unique as they not only involve all three of Canada's federal granting councils – but also non-academic knowledge users, to accelerate the transformation of knowledge created in the lab into improved health products and/or practices.
Research at the University of Manitoba is partially supported by funding from the Government of Canada Research Support Fund.
Read more: https://news.umanitoba.ca/national-research-team-targets-glioblastoma/